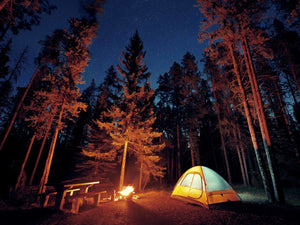 Camping Tips for Beginners
Planning a camping trip but unsure of what you should take note of? Take quick look at these 5 camping tips for every beginners should take note of! 
Practice at Home

Before doing anything at all, we sometimes need practice. Doing something for the first time has a high risk of failure, especially when you are under stress. Imagine taking a whole day to figure out how to set up a camping tent. You will feel that the time wasted can be used to complete other tasks instead, resulting in a less fruitful camping trip. So before the camping trip, instead of just reading the manual and visualize building the tent, actually build it!


Determine Campsite Wisely

Even if you are fully prepared for the camping trip, the environment and surroundings can change everything and ruin your day. For beginners, it is ideal pick a campsite that has close accessibility to amenities such as picnic tables, fire pits and clean restrooms. Having such amenities will take a lot of stress off and you will likely need to pack less as well!


Camping Essentials 'Box'

Personalize your own camping essentials box or bag and include things like: duck tape, multi-tool, first aid kit, torch, matches and your Luminox Watch. Only then, can you efficiently get your hands on the important things at crucial times, and this could help save your life. Just imagine a scenario at night when it is pitch-black. You would need to grab your torch to light up your surroundings!


Prepare Easy Meals

If you are not a picky eater and want to keep meals simple, a can of baked beans and some hot dogs would be sufficient. However, if you want to eat delicious cooked food during a camping trip, you should make campfire-friendly meals ahead of time. An example would be making chicken kabobs and packing them in plastic bags. With this method, the kabobs will be all set to pull out, and you can cook up a delicious meal using the campfire in just a few minutes!


Leave No Traces

It is important to leave the campsite the same as you found it (or as close as possible), not only out of respect for campers that come after, but also to protect the beautiful outdoors and nature. Ensure to throw out any trash you brought in, and that your campfire is completely out. Also, make sure you pack all your gears/tools and not leave anything behind. You would not want to lose your belongings, right?


With these 5 tips, your camping preparation will be much easier, and your camping trip will be way more enjoyable!
---