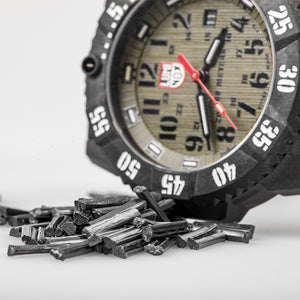 CARBONOX™ vs CARBONOX+™
If you know about Luminox, you should probably know what is CARBONOX™ and CARBONOX+™. However, do you know what is the difference between the two type of material used in our watches? Don't worry, after reading this post, you will definitely understand better and make the right choice of Luminox watch to strap on your wrist!
CARBONOX
™
In 2006, Luminox introduced an innovative carbon compound material, which consists of carbon long bars or carbon powder in varying percentages depending on the model.  With CARBONOX™, Luminox produces timepieces that have a very rigid and hard finish, taking the watch's overall durability to a whole new level. Besides being durable and lightweight, it is extremely comfortable to wear, shock, scratch resistant, and resistant to temperate changes. To add on, it also has a very strong chemical resistance and it 's non-metallic, anti-allergenic, and anti-magnetic. CARBONOX™ has been used in the making of Luminox watch cases and bracelets. 
CARBONOX+
™
CARBONOX+™ is first introduced in 2016, used in the production of the Luminox Master Carbon SEAL 3800 Series. It is a high performance carbon long bar compound, in which carbon fibers count for 40% of the compound. Thanks to the higher composition of carbon fibers,  CARBONOX+™ has tensile strength that is twice as high as with CARBONOX™, while water absorption is three times lower. It also provide a very modern and distinctive gray color to the Luminox watches. 
Now you know the difference in the Luminox's trademark watch case material duo. What are you waiting for? Get your own Luminox and feel its ruggedness yourself!
---