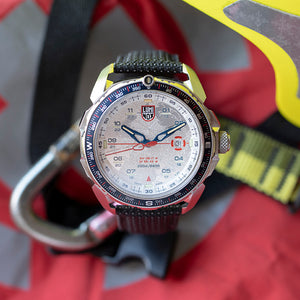 ICE SAR Arctic 1200 Series vs ICE SAR Arctic 1000 Series
As most of you should know by now, Luminox recently launch the continuation of the ICE SAR collection, which is the ICE SAR Arctic 1200 Series. As much as both collections have their own merits, do you know what is the differences between them? This post will talk about a few distinct points which will differentiate the 1200 Series and 1000 Series. 
1. Case material
One of the most distinct difference between the two collections will be the material used for the watch case. Luminox's trademark, Carbonox, is used to build the case of ICE SAR Arctic 1000 Series, giving it the Luminox usual lightweight, durable and robust touch. On the other hand, ICE SAR Arctic 1200 Series uses Stainless Steel for its case, providing it another vibe and an alternative for consumers who prefer timepieces with more weight to it. 
2. Dial
The next difference will be the dial of the two series. For the 1000 series, it has a clean, sand-blasted dial, whereas for the 1200 series, it has a map of the world printed on it, with the coordinates of the ICE-SAR headquarters in Reykjavik in the middle. Thus, providing options for consumers who either prefer dials that are simpler or more elaborated.
3. Caseback
This could be the difference that most of you may not have noticed. In order to further improve its water resistance, Luminox decided to use screw down caseback for the new ICE SAR Arctic 1200 Series, as compared to the 4-screw fit caseback used in ICE SAR Arctic 1000 Series. 
4. Strap Material
For the 1000 Series, the watches use genuine rubber signature strap with textile inlay. For the 1200 Series, aside from the Stainless Steel straps to match with the case material, Luminox also created a new textile strap, has reflective material imbedded in the textile for additional safety at night, mimicking the clothing that ICE-SAR teams wear. Therefore, adding more variety to the collection. 
---