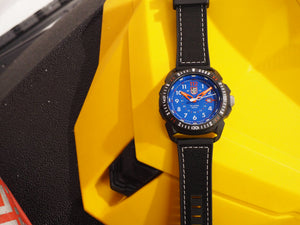 ICE SAR - THE ICELANDIC ASSOCIATION FOR SEARCH AND RESCUE
ICE SAR stands for the Icelandic Association for Search and Rescue and as the name suggests, they perform search and rescue missions in different emergencies, such as avalanches, shipwrecks, storms, eruptions, earthquakes and sub-zero winters. ICE-SAR was founded in 1928 due to Iceland's extreme weather conditions and lack of a professional army. Iceland, widely known as "the Land of Fire and Ice", has some of the largest glaciers in Europe and the world's most active volcanoes. Due to these harsh forces of nature, a strong force of volunteers from a small Icelandic population of 330,000 has risen to the occasion to help those in need. 
Currently, ICE SAR has 93 teams and a force of over 8,000 volunteers, passionately driving accident prevention and Search and Rescue programs in Iceland to battle with Mother Nature. All volunteers are Search and Rescue experts who receive an 18 months training before they can go on their first mission. 
ICE SAR is also active in International cooperation as they believe that such cooperation is vital in gathering knowledge and keep our volunteers updated about latest developments in the field of accident prevention and search and rescue on land and at sea. Some of the international organizations are such as the international Maritime Rescue Federation, International Search and Rescue Advisory Group, and International Association for Safety and Survival Training.
---
3 comments