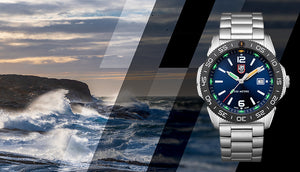 Luminox: Born in the Pacific!
Luminox was founded in the small town of San Rafael, CA. This place is located in the Pacific Coast itself, where the sport of diving became really popular.
When one thinks of the Pacific, images of beaches, palm trees and adventures under the sun come to mind, and what better place to do so than at the world's largest and deepest ocean, and a playground for people who love the outdoors.
Luminox and the Pacific are inexorably linked. When Luminox was founded in 1989, its aim was to design, engineer and manufacture the toughest watches on the planet for the toughest people on the planet – Navy SEALs, military, law enforcement, first responders, adventurers, and people who love the outdoors.
The result has been a range of watch designs and functions that have been adopted by these groups and a legacy of quality, toughness and dependability.
To honor this connection to the Pacific, Luminox is introducing a brand-new collection in its SEA series, the Pacific Diver 3120 Series.
Tune in next week to take a look at the watches!
---