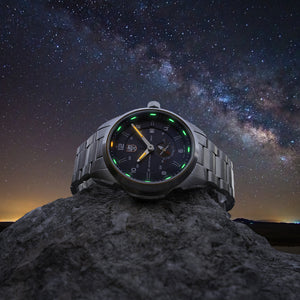 Luminox Atacama Adventurer 1760 Series - Reliable in Any Adventure
The Atacama Desert, in Chile, is known to be one of the driest area in the world. To portray the timepieces' ability to survive the toughest environments, Luminox named the Atacama Adventurer 1760 Series after this land of extreme conditions.

This series is equipped with 42mm stainless steel case, screwed down crown and screwed in case back, while rocking the casual, urban look. The Atacama Adventurer 1760 Series also possesses water resistance up to 200 meters.
The Atacama Adventurer Field 1760 features a small second sub dial at six o'clock, this is the first time Luminox is using such a function in its watches. Replacing the traditional use of hands, the sub dial features a turning disk with two arrows, mimicking a compass. In addition, there is a date window is at the three o'clock position. The series is available in four variations and the timepieces come in different dial colors, such as black, blue and brown. They are paired with leather, textile straps, or stainless-steel bracelets.
Alike the rest of the Luminox watches, the Atacama Adventurer Field 1760 collection is equipped with the Luminox Lighting Technology (LLT), which guarantees ultimate night vision for up to 25 years through the use of tritium gas tubes. Unlike other luminosity systems, which depend on exterior light sources to charge luminous paint or a pushbutton to illuminate the watch, the luminosity is built right into the Luminox watches, ensuring time visibility in any situations. The series also uses Sapphire crystal with anti-reflective coating that gives the final finishing touch.
---