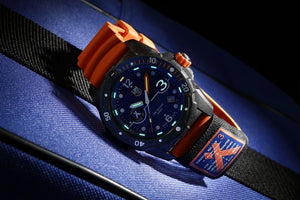 Luminox: Bear Grylls Survival SEA 3723.R3 Limited Edition
There is now a new addition to the BEAR GRYLLS SURVIVAL 3720 SEA SERIES! The Bear Grylls Survival SEA 3723.R3 Limited Edition, with only 333 pieces available worldwide and the design is of the original SEA collection but with a different theme/colour. It features a 42mm CARBONOX™ case with a unidirectional bezel, water resistant to 200 meters, coated in striking blue/orange, and is rugged enough to bring anywhere. It is also highlighted by a large visible '3' that uses a luminous material. The strap is FP2405.35Q - Orange EPDM rubber strap with stainless steel Luminox signature buckle, 24mm.     
Other Specifications
Origin: Swiss Made

Always Visible: Constant glow for up to 25 years in any light condition

Movement: Ronda 515 HF 6

Battery/Battery life: 395 / 50 months

Case back: 316L stainless steel, screw in

Crystal: Hardened Mineral Crystal

Crown: 316L stainless steel

Height: 14mm

Weight: 76gr
Luminox watches are known for their Luminox Light Technology (LLT) which makes it possible to see in low light conditions and never having to rely on an exterior light source. This watch also uses this signature technology and here are the colours!
Colours of tubes in darkness
Bezel: Orange

Dial: Orange (12H), Green (1-11H)

Hands: Green/Orange (Hr/Min), Green (Sec)
If you are wondering why there is so much orange, it is because orange is Bear Grylls' favourite colour, with green being one of the brightest colours in the sea!
Bear Grylls is an expert at survival and Luminox is about equipping people for any conditions. This combination gave birth to the "Survival Rule of 3". The "Survival Rule of 3" states that one can survive without; Air for 3 minutes, Shelter for 3 hours, Water for 3 days and Food for 3 weeks.
This timepiece represents the imperative "Survival Rule of 3" that outdoor adventurers can stick to. Outdoor adventurers have to prioritise the rules in order to survive in critical survival conditions. The rules are printed on a removable sleeve and also attached onto the strap as a reminder. Bear Grylls lives by the "Survival Rule of 3" and it is a clear guideline for him and all outdoor adventurers. During highly stressful times, simple and efficient rules like the "Survival Rule of 3" are the easiest to remember!
---