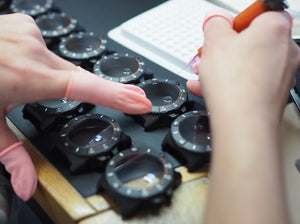 Luminox Behind the Scenes - Luminox Light Technology
As part of the 30 years anniversary, we take a look at behind the scenes of making a Luminox watch. The unsung heroes at Luminox who have meticulous assembled a Luminox watch to ensure that it is trusted and dependable by the elite military and law enforcement forces around the world.
As the first part, we look at the Luminox Light Technology. Assembling of Luminox Light Technology requires special engineering in the construction of the watch. First, to assemble a watch with tritium gas tubes, one needs to get special permit. The tritium gas tubes contain a small radioactive material that needs to be handled in a controlled environment. Luminox uses T25 for its Luminox Light Technology that adheres to international safety guidelines. If one were to swallow all the gas tubes found on a Luminox watch, there is less radiation compared to taking a flight from Asia to Europe.  Hence, during the assembling of the Luminox Light technology, special care is taken to ensure the safety of the assemblers as well as the safety of the watch.
Holding true to the 'Always Visible' mantra, Luminox felt it was important that the hour, minute and second hands have the Luminox Light Technology.  This integration needed special construction.  Luminox is the only brand that puts a tritium gas tube on the hour, minute and seconds hand. This means that there needs to be an allowable space given for the hands with the tritium gas tubes. This indirectly caused the watch to be thicker. Another aspect to consider was the material used in the construction of the hands. The hands had to be strong enough to ensure that it did not bend. If it bent, the hands would clash into each other and cause the watch to stop. As a result of the longer stem to hold the hands as well as weight of the hands and the gas tube on it, slight modifications to the movement had to be done.
Till today, Luminox uses a combination of machinery and human assembling in its Luminox Light Technology. This is to help them optimize production volumes and adjust supply based on market demands.
Did you find this sneak peek interesting? Stay tune to next week's posting!
---