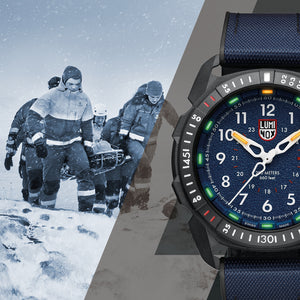 Luminox: ICE-SAR 1003.ICE
There's now a new addition to the ICE-SAR Arctic 1000 Series! The 1003.ICE features a 46 mm CARBONOX™ case. The hard-sandblasted dial calls to mind the lava fields that cover 30% of Iceland. This model comes on an eye-catching navy blue dial & navy blue fabric strap.
The professional teams of the Icelandic Association for Search and Rescue are trained to go anywhere on Iceland, known as "the Land of Fire and Ice." And on Iceland, that really means what it says – rescuers routinely answer calls during avalanches, shipwrecks, storms, eruptions, earthquakes, sub-zero winters and much more. Also remember, during the winter, daylight is minimized to only a few short hours, while in the summertime, there is near 24-hours of sunlight. These teams need a watch they can depend upon, that will endure the hardships they have to, and keep on doing its job. That makes Luminox watches and their ability to be read at any time to a perfect match!
---