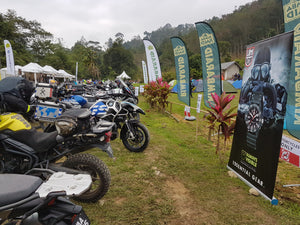 Luminox is proud to be the Official Timekeeper for Rimba Raid 2018
Luminox, is proud to be the Official Timekeeper of Rimba Raid from 10 – 11 Feb 2018 at Janda Baik in Pahang, Malaysia.


Being ruggedly designed and built with Carbon compound material which is lightweight yet tough to be worn on the wrist without feeling a burden and is ready to stand up for any extreme conditions, Luminox watches are the perfect fit for off-road adventure bikers where the variety of terrains creates extreme challenges. The Luminox timepiece acts as an Essential Gear to help them complete the terrain on time without having to worry about damage when it gets hit or placed in mud, sands or rain.


The Rimba Raid Janda Baik promises to be one of the premier off-road motorcycle events for 2018, it kicked off on Saturday with 5 Special Stages held around the campsite, with challenges designed to be relevant to real world ADV and Overlanding riding. On Sunday the competition continued with the Big Enduro Time Attack, using a jungle trail of 11.7 kilometres and a river crossing thrown in. 

The winner of the race walked with a piece of Luminox Tony Kanaan Racing Chronograph watch which features a white enamel dial (a first for Luminox) outlined in a black and white checkered flag motif. The black PVD-treated 316L stainless steel case has carbon fibre sides and the high polish and smooth, solid surface of the fixed black ceramic bezel provides a tone-on-tone textural contrast and comes with a solid black polyurethane strap version.
---