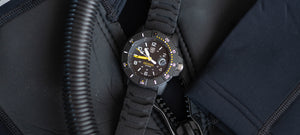 Luminox: Navy SEALs 3600 Series
Last year, Luminox introduced the new Navy SEALs 3600 Series, the latest collection that is officially licensed by the Department of the Navy. Designed and manufactured with input from US Navy SEALs, the watches in this collection are perfectly suited for use by the US Navy SEALs, and therefore rugged enough to do just about anything else.
The Navy SEALs are America's premiere defenders, willing to go to any lengths to preserve freedom. For many years, Luminox has been supplying to the SEALs and supporting their missions by developing the highest quality timepieces built to withstand the rigors these warriors put them through.
In keeping with the needs of the Navy SEALs, the 3600 series comes in a case made of Carbonox™, a carbon-based material exclusive to Luminox, which is light, hypoallergenic and extremely durable and resistant. Due to the carbon fibers being visible on the surface of the case, it makes for a visually arresting texture
All watches in the 3600 Series feature a hydraulically-stamped dial protected by a sapphire crystal with anti-reflective coating and a magnifier for the date display.
The 3600 Series is the next step in the Navy SEAL offering, slotting in between the 3500 Series and the 3800 Series.
---