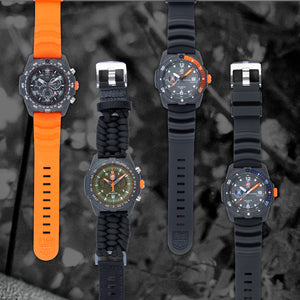 Luminox - Unique in Bear's Way
For the first half of 2020, Luminox will launch its Sea and Land series of the Luminox Bear Grylls Survival Collection. All watches will feature 'Never Give Up', Bear's signature and an orange compound crown, giving the collection a consistent design. Depending on the model, the watches may incorporate different functions such as chronographs, compasses paracord straps, and of course, Luminox Light Technology so that the watch is visible in any lighting conditions and will remain so for up to 25 years.
The Bear Grylls collection will consist of watches in all of Luminox's signature series: Sea, Air and Land. The first six models (4 in SEA and 2 in LAND) will be introduced in February 2020, while the other two models (AIR) are scheduled for September 2020.
All of the Luminox X Bear Grylls watches launching in February feature CARBONOX™ cases - CARBONOX™ is a carbon-based material exclusive to Luminox which is Light, hypoallergenic and extremely durable and resistant – while the watches launching in September will be made out of grade 316L stainless steel, ensuring superior durability.
Bear Grylls is famous for being able to survive in any conditions, and Luminox watches are known for their ability to perform in extreme situations, making this the perfect partnership. Luminox's motto, Every Second Counts, dovetails flawlessly with Grylls' Never Give Up. There is no better watch to be on Bear Grylls' wrist than a Luminox, especially a Luminox which Grylls helped design and develop.
Check out the watches, available at the e-store now!
---