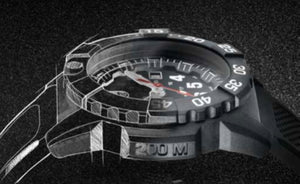 The Creative Process of Designing the Luminox Navy SEAL 3500
Designing a watch is NEVER easy. Before designing a watch, one has to first understand the brand's identity and its essence. What are they known for, what kind of essence does its customers associate it to. A designer must be able to include all of these aspects down before starting the design. Luminox has now came out with Luminox Navy SEAL 3500, described as evolutionary as there has not been any changes to the Navy SEAL collection for the past 10 years.
The creative process is split up to 3 different phases. The first phase is developing the design concepts. In this phase, this is where the designer is drawing up the sketchers of the watches in 2d.
In phase 2, concept development will happen. Fine tuning of the watches will be done using a 3d programme where the designer will be able to look at the watch in different angles. Details such as the strap, the casing, the dial and the crown will all be finalised and touched up before proceeding to the next phase.
The last phase is 3d rendering. This stage may seem similar to phase 1, however it is more detailed. Unlike phase 1, a 3d wax prototype will be printed. Technical adjustments will be made to the prototype and the brand will be able to source out the needed parts of the watch such as the straps, case dial and the crystal.
---