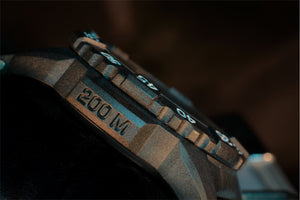 Water resistance
Water resistance
People always have this misconception that if their watches are water resistance it means it is water proof and it can withstand all water pressure. However, this is not the case. Waterproof and water resistance are two different meanings in the watch. A waterproof watch indicates that under NO certain circumstances leakage would happen while water resistance means how much water pressure a watch can handle. Every watch will come with a different water resistance marking and some of the common ones include 50 meters, 100 meters, 200 meters and 500 meters. So can a 50 meter water resistance watch survive up to 50m under water? The answer is no.
Let's break it down and see what activity is suitable for the indicated watch resistance.
Water resistance is also not permanent. The water resistance of the watch is dependent on the wear and tear of the watch. For example, a hard knock of your watch may cause the case or glass to have a hairline crack. Another common compromising point of water resistance is when the gasket – rubber ring found inside the case back or crown, cracks due to the hardening of the rubber or mishandling during servicing of the watch. If you find your watch with water leaked in, bring it a service centre as soon as possible to prevent rusting.
---