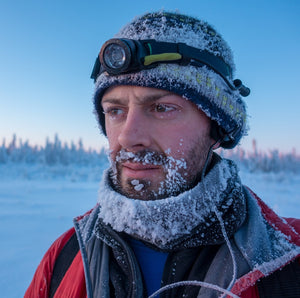 BASELWORLD 2019 - INTERVIEW WITH ALEX HIBBERT
Alex Hibbert is the world record-holding polar traveler who has skied further on an unsupported Arctic journey than anyone in history. In July 2008, he completed his 1374-mile, 113-day 'Long Haul' return crossing of a new ice sheet route along with team-mate George Bullard. They received no resupplies or physical support and completed the final week on almost no food. Thus, to support him, Luminox linked up with ICE SAR to fund his expeditions. In the recent BaselWorld 2019, we managed to do an interview with him.  
What made you started going such expeditions?

I actually sign up with the military but realised that I didn't like it there. However, I like adventures and cold weather. Therefore, by making use of what I learnt during my time in the military, I go on these expeditions that involves cold climate.


Which is your favourite Luminox timepiece?

My favourite Luminox watch is the new ICE SAR Arctic 1203. Love the colour and the finishing on this stainless steel timepiece.


Has there been a time you wanted to give up? What kept you going through the journey?

Yes, there was. It was in 2012. During the expedition, the wind was hitting me at 160km/h and as much as it hurts my pride, I had to call ICE SAR to get me out of the area.

How did your journey, with Luminox, begin?

After getting associated with ICE SAR throughout my years of expeditions, ICE SAR invited me to speak at conferences on how to behave in similar life-threatening situations. Therefore, when ICE SAR was in talks with Luminox, they recommend me to be their spokesperson.


What is the thing that you like most about Luminox timepieces?

It is durable, easy to read and doesn't get caught in my clothing. Also, it is simple to use and looks good in any of my attires.
Meet Alex on Social Media:
https://twitter.com/alexhibbert
https://www.instagram.com/alexhibbert
Meet us on Social Media:
https://www.facebook.com/LuminoxSingapore/
https://www.instagram.com/luminoxsg/
---