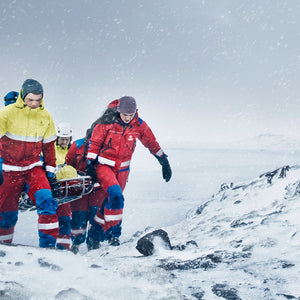 BASELWORLD 2019 - INTERVIEW WITH ICE SAR

During the recent BaselWorld 2019, we managed to interview one of ICE SAR's veteran volunteer, Sara, who is currently a trainer at ICE SAR, due to her passion for teaching. Sara still goes for missions, however, she tries to avoid high-risk mission due to the fact that she is already a mother of two. Nonetheless, she is still very active in ICE SAR and contributing whatever she could.
What do you like most about Luminox watches? How has the ICE SAR Arctic 1000 Series been helpful in your operations?

It is able to function well in any situations. The ICE SAR Arctic 1000 Series have been a great help to all of us, assisting us in keeping track of time during our missions.

When did you join ICE SAR and why did you decided to join them?
I joined ICE SAR when I was 14 years old and 23 years have gone by. I joined this organization because I want to help others in need. I love the thrill of being in bad weather and overcoming them
3. What is the most terrifying/dangerous operation that you have participated in?
I am able to empathize with the recent Thailand Cave incident because I have been in a similar mission before. Two ladies fell into a waterfall and one of them immediately float back up to the surface, surviving the fall. However, the other lady was not as lucky. When we arrived at the site, the lady was trapped in a cave beneath the waterfall and we had to redirect the whole waterfall to get to the lady. Sadly, when we get to her, it was too late. Also, I also was in a mission where we had to blast a glacier with dynamite to extract the survivors.
---