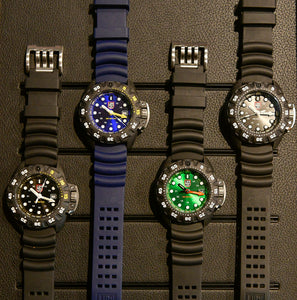 Diving Deeper with Ultra-lightweight CARBONOX™, Luminox Scott Cassell Deep Dive 1550 Series
To support Scott Cassell's mission, Luminox launched the latest Deep Dive 1550 collection and it is also the first time Luminox used their lightweight CARBONOX™ in its Deep Dive collection.
Anyone who is familiar with Luminox, would know who is Scott Cassell. As for those who don't, Scott was active in military service as an expert military operative, a counter-terrorism dive instructor for special operations and a sniper. After retiring, he founded two non- profit organisations - Undersea Voyager Project (UVP) and Sea Wolves Unlimited. The UVP is to help interested parties to explore and discover more about the underwater environment through specially equipped submarines. As for Sea Wolves Unlimited, it collects evidence against poachers who are endangering the lives of ocean creatures.
What is so special about this series? Here are 3 points for you to better appreciate the timepieces. 
1. The use of CARBONOX™ for the case. 
Carbonox™ is a carbon-based material exclusive to Luminox. It is hypoallergenic and extremely durable and resistant, it also features a very interesting grey texture on the surface of the case that is caused by using carbon bars to forge the case. The series are water resistant to 300 meters, a feat noteworthy when working on carbon as special gaskets and case designs mean that these watches can dive deeper and continue performing flawlessly in such extreme pressures.
2. Reliable Swiss Made Quartz movement and battery that will last close to a decade. 
The new Scott Cassell Deep Dive 1550 watches are powered by a super-reliable Swiss Made quartz movement with an eight-year lithium battery.
3. Patented Bezel Locking System
All divers want to stay underwater for as long as they safely can and with this patented Bezel Locking System, they will not have to worry about the bezel moving unintentionally. Also, the Bezel Locking System also doubles as a crown protector which allows the watch to withstand more shocks while diving on a mission.
Be sure to dive into this collection and you will know why you should be having this timepiece strapped to your wrist. 
---