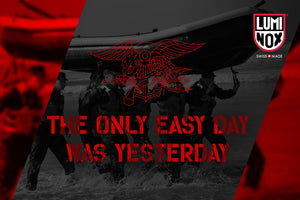 History of the Navy SEALs
History of the Navy SEALs
In 1962, the Navy SEALs was created by John F. Kennedy as a small, elite maritime military force to organize and take part in combats and battles that are unconventional. Till today, they are used to carry small but high impact missions around the globe which includes fighting against terrorist attacks. The US Navy SEALs take individuals and train them in strenuous stimulations that are a replications of environments that are arduous and intense. They are trained in extreme climates as well as mountainous regions and in countries that are divided by political violence. The Navy SEALs operate and stand for SEA, AIR and LAND.  
The Navy SEALs played a huge part in the Korean war, where 300 men from Underwater Demolition teams ( UDT) were dispatched. They were then tasked to conduct demolition raids along the Korean coast which were successful. Since then the Navy SEALs actively participate in many guerrilla warfare in countries that have conflicts. A prime example would be the Vietnam war, where they conducted direct- actions mission in 1966.
The most popular mission the Navy SEALs embarked on was the assassination of Osama Bin Laden. The mission was declassified and the whole world went into a chaos where the video of the notorious terrorist was televised. A living embodiment of their motto' The only easy day was yesterday', the SEALs have been involved in warfare, protecting and preserving world peace for decades. They are the true unsung heroes of our era.
---