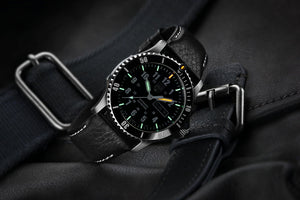 Luminox: The Evolution of the Sports Timer Series
With the Automatic Field Sport Timer, Luminox honors the past while still focusing resolutely on the future. The first Sport Timer Series was introduced back in the 1990s and they were one of the most popular and recognized watches for the fledgling brand.
Last year, to celebrate the brand's 30th anniversary, Luminox designed a new Sport Timer Series - the Sport Timer 30th Anniversary, using vintage-inspired designs paired with today's latest technology.
This year, Luminox takes the Sport Timer even further, incorporating an automatic movement into the sporty vintage design. The Automatic Field Sport Timer heralds all that the brand stands for – toughness, versatility and performance, in a very attractive, vintage-inspired package.
Stay tune next week to take look at the new Sports Timer Series!
---
1 comment