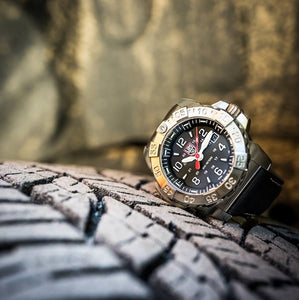 Luminox Father's Day Special - Honouring Fathers
Father's Day is the time we celebrate the men whose unconditional love shaped us to be who we are today. It is an occasion where we express our heartfelt gratitude for their relentless contributions and sacrifices. Like the special forces and Navy SEALs, our dedicated fathers display admirable traits seemingly guided by these three Navy SEAL Codes.
Loyalty to the Country, Team and Teammate. Through the ups and downs, our fathers have been the steady anchor that binds the family. When the going gets tough, they fought in the trenches with us. For the father that is always present to witness our milestones in life, the Luminox Navy SEAL 3503's 200m water resistance makes a perfect gift for the water sports-active or dive enthusiats.
Ready to Lead, Ready to Follow, Never Quit. Fathers are role models who inculcate values which serve as our life's moral compass. Thank our constant companions and mentors with the Luminox Navy SEAL 3502 which offers superior night visibility with the tritium gas tubes. The Luminox tritium gas tubes always provides constant visibility that allows military personel world-wide to see time easily. Likewise, the same tritium gas tubes makes time viewing easy in day or night conditions for dad!
Earn Your Trident Everyday. The fight is not over until the battle is won. Fathers inspire us to be the best version of ourselves everyday. For the father who swears by the Navy SEAL motto, "The only easy day was yesterday", the new Luminox Navy SEAL 3500 collection and blackout series reflects fathers' steely determination. If the watch is trusted and requested by the most elite special force in the world, it is definitely good for the father who has gone through thick and thin for us!
---