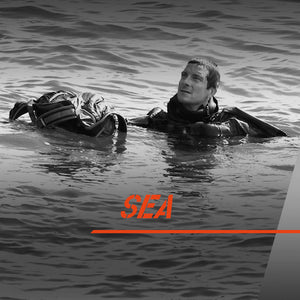 Luminox X Bear Grylls - Conquering the SEA
The man treads in the cold dark waters of the Mediterranean Sea. Equipped with only his diving gear and a homemade fishing spear, he has to quickly find a source of food before the sun disappears over the horizon. "The watch feels light", the man thought as he adjusts the diving bezel on his watch, setting the indicator to 40 minutes. This way, he feels safer knowing that he would not dive past the limit. He goes under and starts to survey the sea for any fish, looking back only to remind himself that he is alone. He checks his watch underwater, glad that even due to the darkness, he can still tell the time due to the tritium gas tubes in the watch. Determined to never give up, the man knows that every second counts.
The man is Bear Grylls and the watch is Luminox.
Introducing the SEA collection of the Luminox Bear Grylls Survival Series; the 3720 SEA and 3740 MASTER Series.
The 3720 SEA series comes in a 42mm CARBONOX™ case, water resistant to 200 meters. The uni-directional turning diving bezel has a special diving zone count up marking, set off by either a blue or orange color for easy reading. The screw-down crown has an orange rubber ring, for better grip, and the color matches the markings on the bezel and the watch hands. The SEA series comes with a waved black rubber strap – making the strap more expandable/flexible.
The 3740 Master Series features two chronographs in 45mm CARBONOX™+ cases with orange details on the case, including S.O.S in Morse code for quick reference. This special timepiece is water resistant to 300 meters and sports a sapphire crystal with anti-reflective coating. The pushers of the chronograph are in solid stainless steel, while the stainless-steel crown has an orange rubber crown ring for an improved grip. Similar to the 3720 series, the 3740 Master series also comes with a uni-directional turning dive bezel.
One distinctive feature is the CARBONOX™+ case material, as compared to the CARBONOX™ found on the 3720 Series. CARBONOX™+ is a high performance carbon long bar compound, in which carbon fibers account for 40% of the compound. CARBONOX™+ also gives the watch an ultra-strong case, improved tensile strength, 3 times less water absorption and a modern and distinctive gray color.
Check out the watches, available at the e-store now!
---