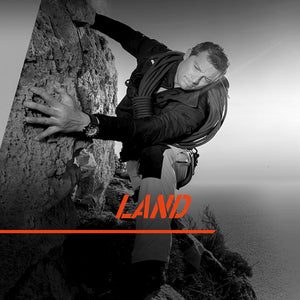 Luminox X Bear Grylls - Explore the Unseen
The man is fighting his way through dark jungle, the sun obscured by the trees. The going is tough, but he hacks his way through thanks to a machete and his sheer grit and determination. Hot and humid, the jungle is a tough environment, with many lurking dangers. He fights his way through to a clearing to see the sun. The man points the hour hand of his watch at the sun, gets his bearings, computes his land speed and determines he can reach higher ground and camps before the sun sets. Determined to never give up, the man knows he will be safe.
The man is Bear Grylls and the watch is Luminox.
Introducing the LAND collection of the Bear Grylls Survival Series; the 3780 LAND Series.
The 3780 LAND Series come equipped with just about everything Bear Grylls requires to survive on any terrestrial adventure. Not only are the 45mm CARBONOX™ cases water resistant to 200 meters, the Land timepieces are chronographs, and come with a special walking speed scale on the bezel, perfect for calculating walking speed. Using the scale, a person can calculate the approximate average walking/hiking speed in an hour. The crown also has the iconic orange rubber ring. The 3780 LAND Series comes with only 6 Luminox Light Technology (LLT).
There are two different designs; the first is a regular black dial and black rubber strap with special ruler markings (cm and inch) and a compass on the strap, while the second is a khaki-green dial with a paracord survival strap.
The paracord strap has evolved from being used as parachute strings to stand-alone travel tools, and is handwoven from superior strength nylon cords used in parachute suspension lines. Possible uses for a paracord bracelet include: (1) Tie up gear, (2) Make a shelter, (3) Make a splint for a broken limb, (4) Perimeter trip lines for warnings, etc.
Disclaimer: the paracord strap used for the watch may not be as strong as traditional paracords due to its size.
Check out the watches, available at the e-store now!
---