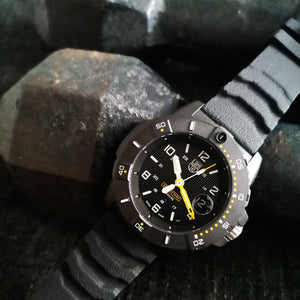 Navy SEAL 3500 Series VS Navy SEAL 3600 Series
Since 1994, Luminox has been working with the U.S. Navy SEALs, one of the most elite military unit in the world, to create timepieces that could withstand any rigorous situations and trainings. Luminox makes sure that each new Navy SEAL series is better than its predecessor, in one way or another. In this post, we will be comparing a few specifications between the Navy SEAL 3500 Series and Navy SEAL 3600 Series. 
1. Luminox Light Technology (Tritium Gas Tubes) Arrangement
"Always Visible" is Luminox tagline for our tritium gas tubes that are placed in our watches, which provide constant glow up to 25 years. Usually, the tubes are placed flat and along the circumference of the dial, which can be seen in the 3500 series. However, the tubes in the 3600 series are mounted vertically along the indexes of the watch. This helps to "open up" the dial, making it look sleeker. However, due to the fact that it is mounted vertically, the tubes will appear as dots instead of lines when viewed in the dark. 
2. Crown and Caseback 
The Navy SEAL 3500 series consists of pull out crown and a 4-screw stainless steel caseback, with a water resistant of up to 200m. In the new Navy SEAL 3600 series, while maintaining the same water resistant, Luminox made changes to the crown and caseback used. The Navy SEAL 3600 series is equipped with screw down crown and screw-in stainless steel caseback! This will further ensure users with its water resistant capability. 
3. Glass material
Most of the Navy SEAL series, including 3500, use Mineral glass for their timepieces. However, the 3600 series was given an upgrade and uses Sapphire Crystal with anti-reflective coating instead. To top it up, all timepieces from the Navy SEAL 3600 Series consist of a magnifier for date display, which is also commonly known as the "cyclop". 
---