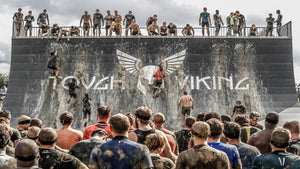 Race Report of Tough Viking Obstacle Race
Garnering the attention of many elites and exercise lovers in Scandinavia, the Tough Viking Obstacle race is one of the largest obstacle race totalling up to 150,000 attendees since 2015. For this year's race, a total 5000 people were present. People with different backgrounds but with the same goal which is to push themselves both physically and mentally over the limits come together as one to face this monster of a race. The race obstacles, boasts an impressive list of barbed wires, fire, water and electricity all stationed at each course.  Although the contestants are faced with challenging obstacles, not one thought of negativity crossed through their minds. Even when they failed at a station, they still pursued on by learning from their mistakes and ultimately completed the race.
This was the case for Wilda Nilson. A 29 year old marketing consultant and photographer, who went solo after her team mate fell sick. She failed numerous times but this did not deter her from achieving her ultimate goal, finishing the race.
It was no surprise that the obstacles were hard to pass as they were design by the Swedish elite military force, Kustjägarna. In order to complete these obstacles, one must have determination, endurance and strength. Burpees, laps and push ups are alternatives for those who have problems in completing the obstacles. For Wilda, her challenge was to get on a huge ramp where she struggled to grab the top of the hanging rope.  After approximately 8 km of obstacles, the race was far from over. The contestants were left to face against the Luminox Atlas Stones where each stone weighed about 80 kg for men and 60 kg for women. The Luminox Atlas stones were to be placed on top of the Luminox oil drum.
After hauling the stones, the contestants were left with climbing high wall, a huge netted cage and a 100m sprint before reaching the finish line.
---