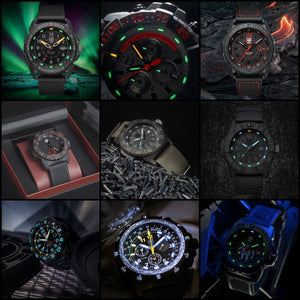 "The Five SEAs" from Luminox
As many of you know, Luminox is known for its Navy SEAL watches. However, they are not the only collection in Luminox's SEA series. In this post, we will talk about 5  collections from the series, each catering to different aspect you may want to find in a timepiece. Who knows, after reading this post, you may end up diving into one of these "Five SEAs". 
1. Classic: Original Navy SEAL 3000 Series
The Original Navy SEAL collection was the first watch that Luminox was commissioned to make by the US Navy SEALs. When the Navy SEALs were looking for a durable, dependable outdoor adventure timepiece that could tell time constantly in day or night missions, they turned to Luminox. The watch is 43mm in diameter, case made in carbon compound, Carbonox, and have a water resistance of 200m. If you are interested for a timepiece with a story, you definitely could consider the Original Navy SEAL 3000 series. 
2. Affordability: Leatherback Sea Turtle 0300/0320 Series
If it is the first time you are buying a Luminox timepiece and do not want to break the bank for it, the Leatherback Sea Turtle 0300/0320 series would be perfect for you. The series is the entry level product of Luminox's Sea Series. Instead of having our signature tritium gas tubes on all the indexes on the dial, Leatherback Sea Turtle watches have the tubes on the even indexes. Also, it has 100m water resistance instead of the usual 200m of the Navy SEAL watches. All these factor contribute to the lower price point of this particular collection. Looking to give Luminox a try? Be sure to check this collection out!
3. Functionality: Scott Cassell Deep Dive 1550 Series
The Scott Cassell Deep Dive 1550 series is one of the latest Luminox collection. As the name suggests, this watch is suitable for deep divers. With the case being made with our signature Carbonox and having a water resistance of 300m, it would be perfect for frequent divers. Also, each of the watches has our Patented Bezel Locking System to prevent any incident of the bezel moving during any dive. To all divers out there, what are you waiting for! 
4. Style: Navy SEAL Chronograph 3580 Series 
The Navy SEAL series have evolves throughout the years and our latest collection would be the Navy SEAL Chronograph 3580 Series, which was released in 2018. Luminox is definitely known for its durability and functionality, however, we are also determined to cater to the aesthetics of our watches. The collection comes in a variety of eye-catching, military-inspired shades ranging from army green, to navy blue, charcoal and the ever popular black-out colour way. Also, the case and bezel have a sleek finish, and contains a sand-blasted dial. Be sure to keep a lookout for this collection to match any of your outfits.
5. Weight: Navy SEAL Steel 3250 Series
Luminox pride ourselves with the use of Carbonox, which is a carbon compound that is durable and lightweight. It is extremely comfortable to wear, shock, scratch resistant, and resistant to temperate changes. To add on, it also has a very strong chemical resistance and it 's non-metallic, anti-allergenic, and anti-magnetic. However, in order to cater to those who prefer timepieces with a little more weight, Luminox released the Navy SEAL Steel 3250 Series, in which the case is made from stainless steel instead. Despite using a different material for the case, the functionality of the watch is the same as the other Navy SEAL collection. 
---